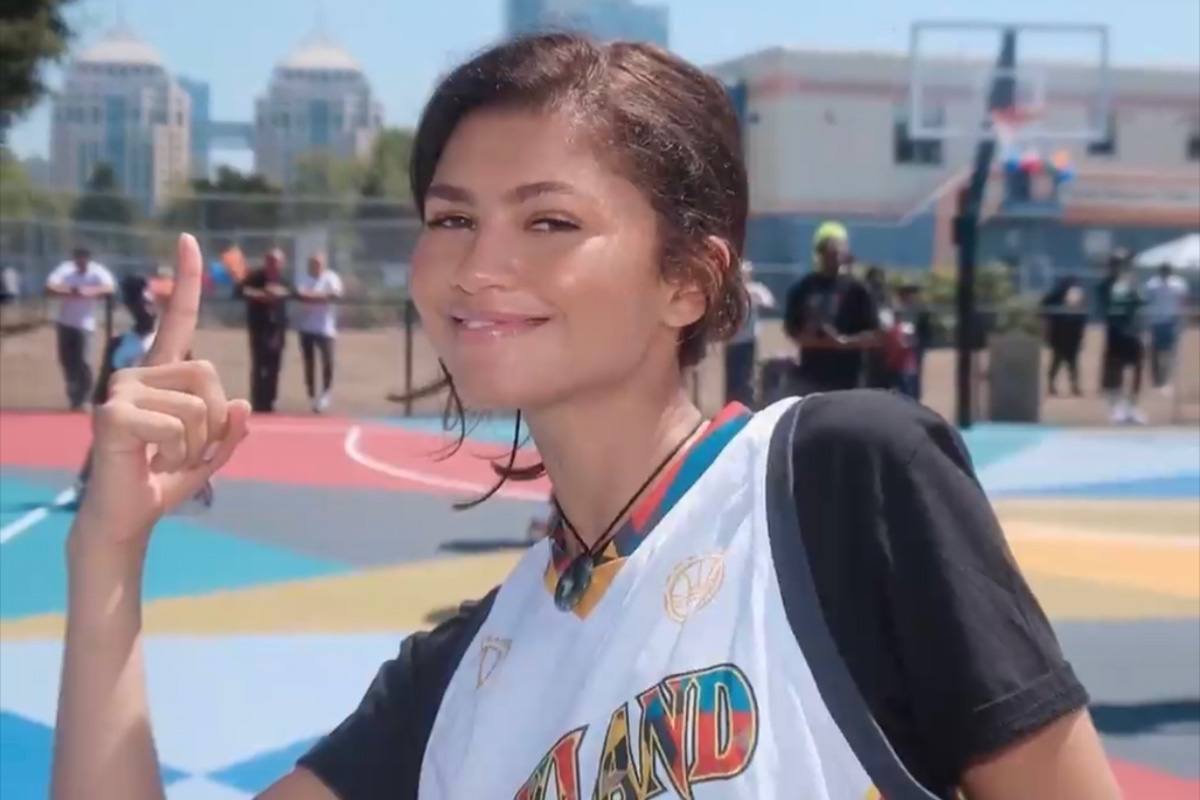 Zendaya and GCMF contribute to West Oakland Middle School
GCMF was one of the organizations contributing to a large-scale charitable effort in Oakland spearheaded by superstar actor and singer Zendaya. The project began as an effort to rejuvenate the basketball courts and grew in scope to include the neighboring middle school. The school received a $5,000 grant and a brand new curtain for their auditorium.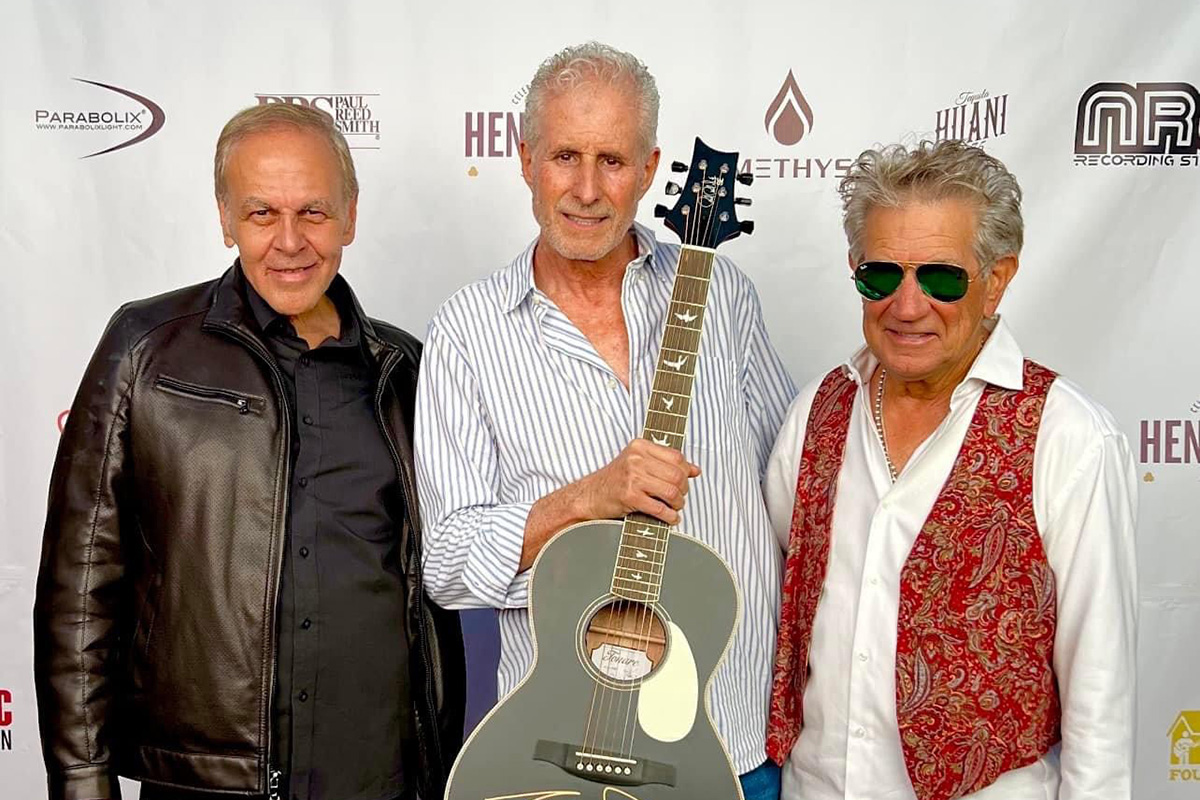 Art Rock LA
Art Rock LA brought together music lovers and art lovers to raise money for GCMF. At the world renown NRG Studios, JD Shultz, Jessica Downs, and Mr. Dripping displayed artwork and special performances by Joao Coronel, Trinity Bliss, and Tim Johnson Jr.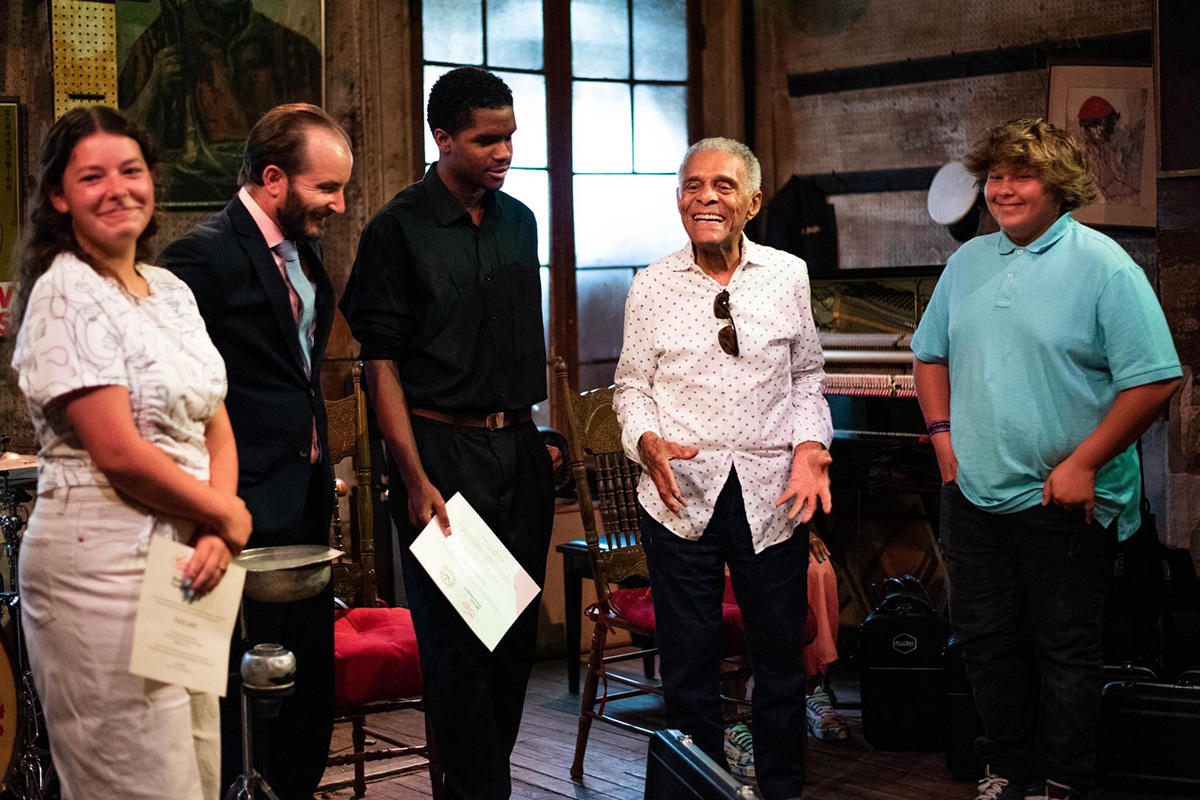 Celebrating Charlie Gabriel's 91st Birthday at Preservation Hall
What did Charlie want for his birthday? To give instruments to upcoming talented students and pass on the traditions of New Orleans music. GCMF worked with former grantee Jeremy Williams from Marrero Middle School and granted two trombones to young students.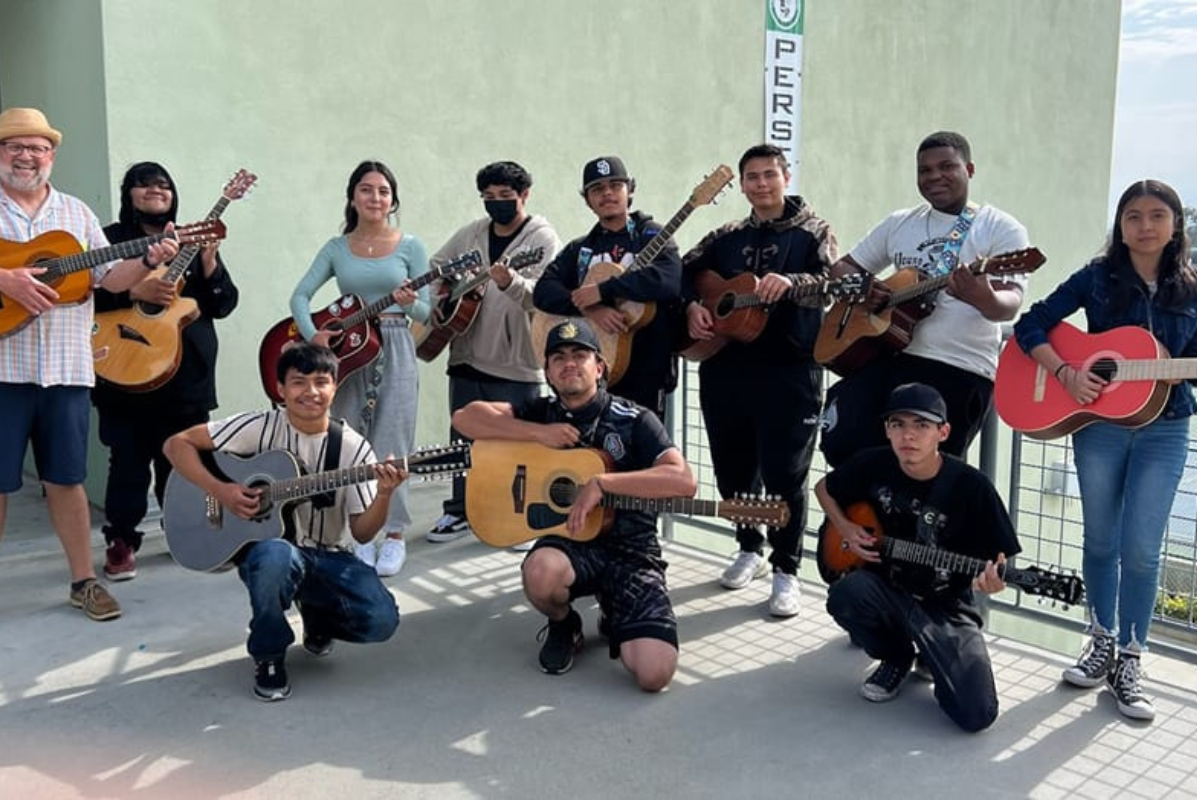 GCMF Partners with Guitars and Ukes in the Classroom
Guitars & Ukes in the Classroom (GITC) expands the role of music in education by preparing teachers to play, sing, lead and integrate hands-on music along with academic and social emotional learning. GCMF recently supported their mariachi initiative in San Francisco and donated 48 guitars and 5 ukuleles to schools in San Francisco and San Diego.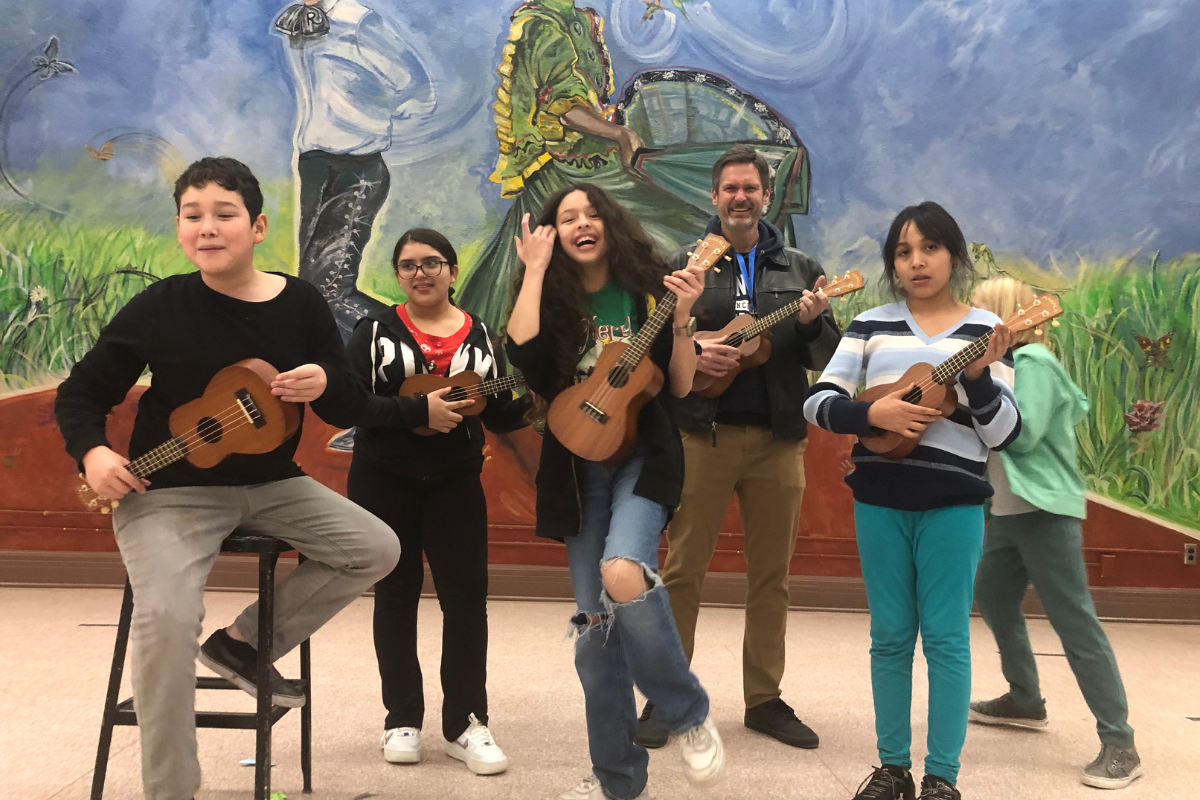 GCMF Provides 60 Ukuleles to  Musical Mentors
Founded in 2007, Musical Mentors decided that if they provided youth with access to quality music lessons which they may not otherwise be able to afford, along with mentors who serve as positive role models, almost every family and child would jump at the chance. They've already served over 1,000 students! Not only that, but all those students are able to actually earn their instruments and keep them forever!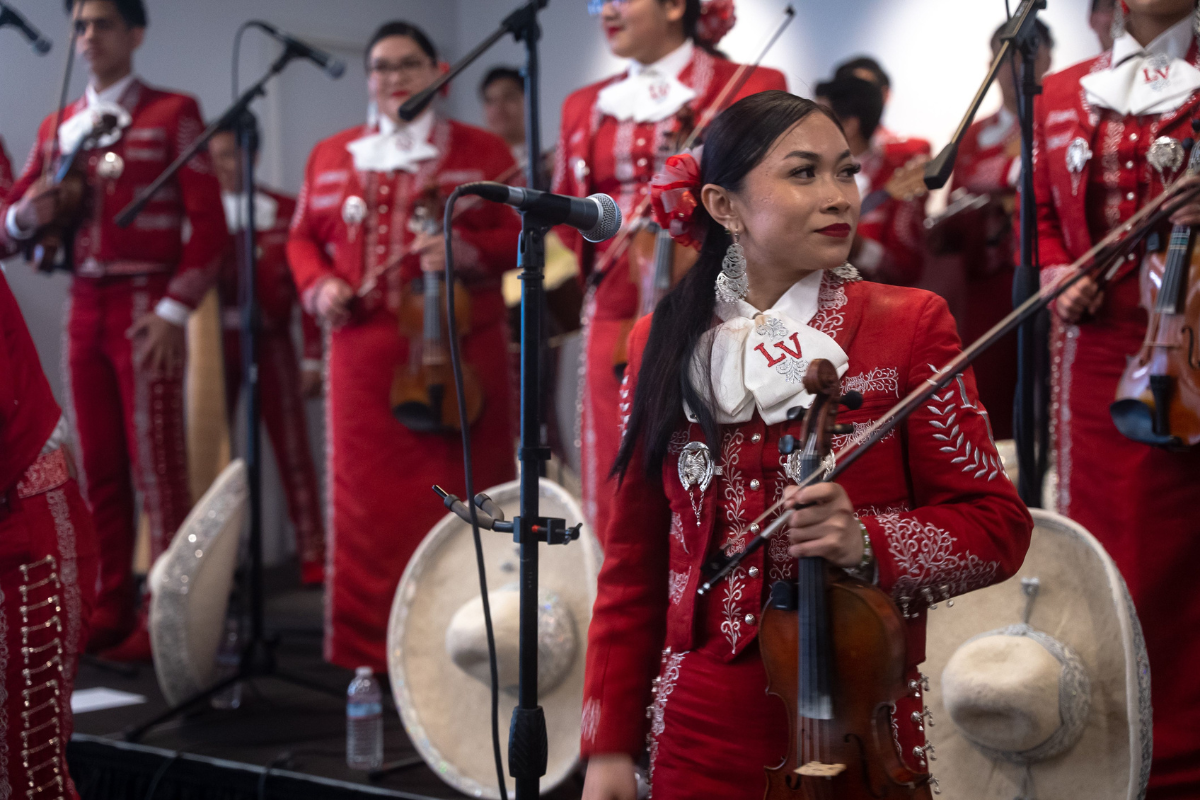 GCMF Provides Support For New Mariachi Program in Santa Ana
Joyous, cathartic yells—or "gritos"—will fill the halls of NOVA Academy Early College High School when mariachi comes to the school as its first official music program. Mariachi Joya, an electrifying 20-member student mariachi band from Las Vegas High School, performed during the assembly to generate excitement and inspire the student body. GCMF provided 18 Guitars, 6 Vihuelas and 6 Guitarrónes.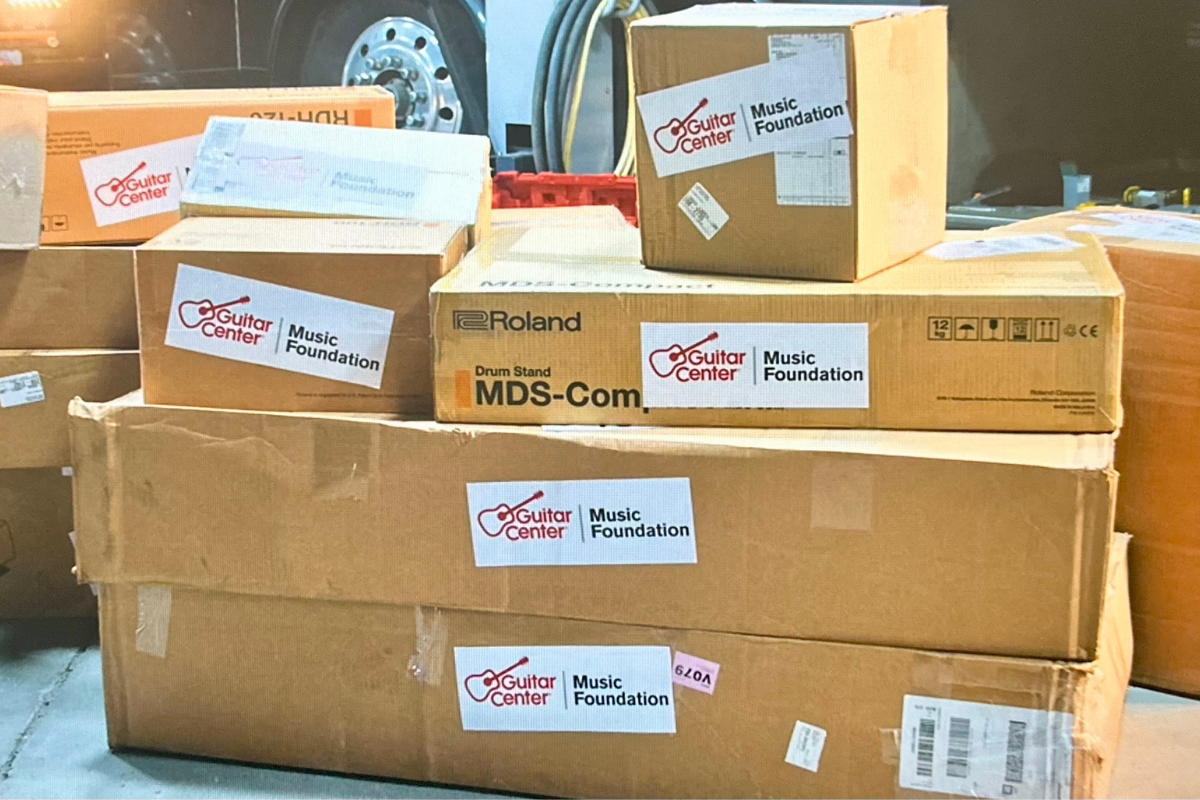 GCMF Featured on Disney+ show "Rennervations"
GCMF provided music gear and equipment for a renovated bus that was turned into a mobile recording studio for The Base in Chicago. Musician and actor, Jeremy Renner, turned the project into a tv show on Disney+. Check out our episode: "Chicago: Building a Mobile Music Bus" featuring Vanessa Hudgens.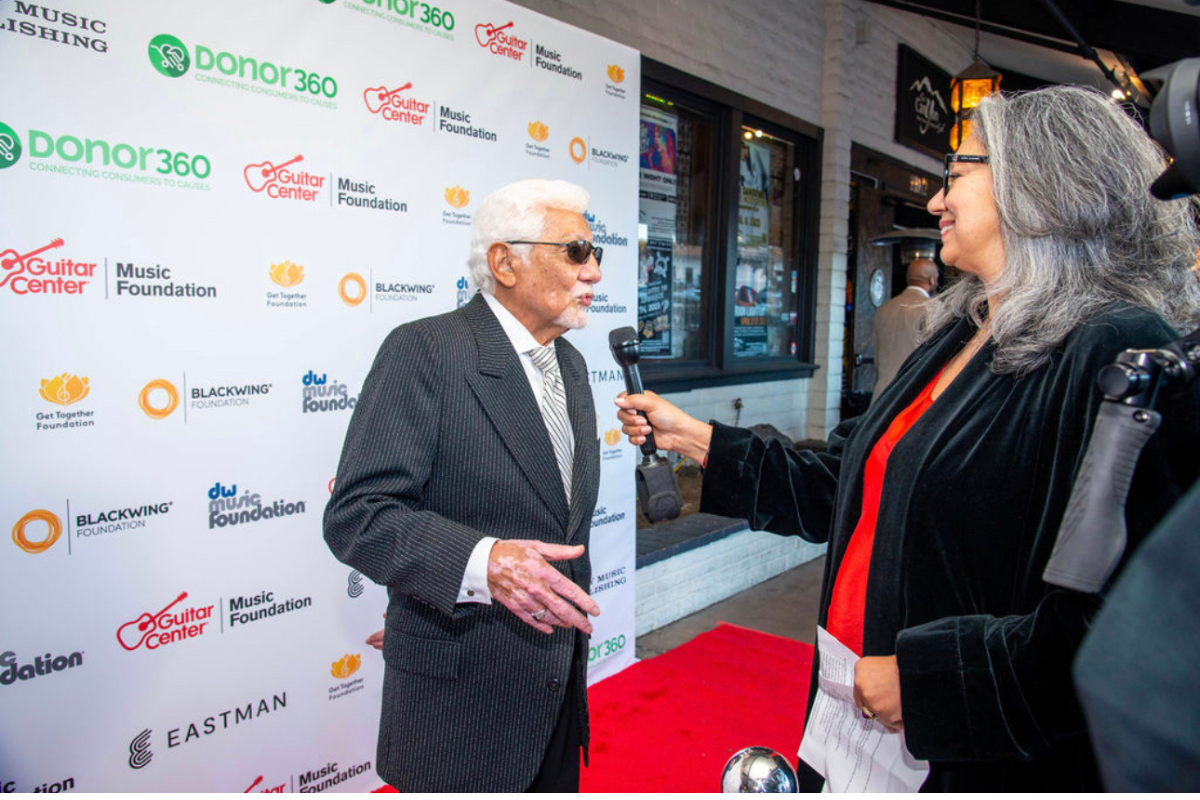 Annual Benefit Concert Honoring Pete Escovedo & Local Teachers
We held our annual benefit concert and fundraiser on March 30 at the Canyon Club. The musical entertainment for the evening included a special segment honoring Pete Escovedo, who received the first annual Lifetime Achievement Award. Other special performances included Macy Gray, Robby Krieger of the Doors, Brian O'Neal of The Busboys, Judith Hill and The E Family Band.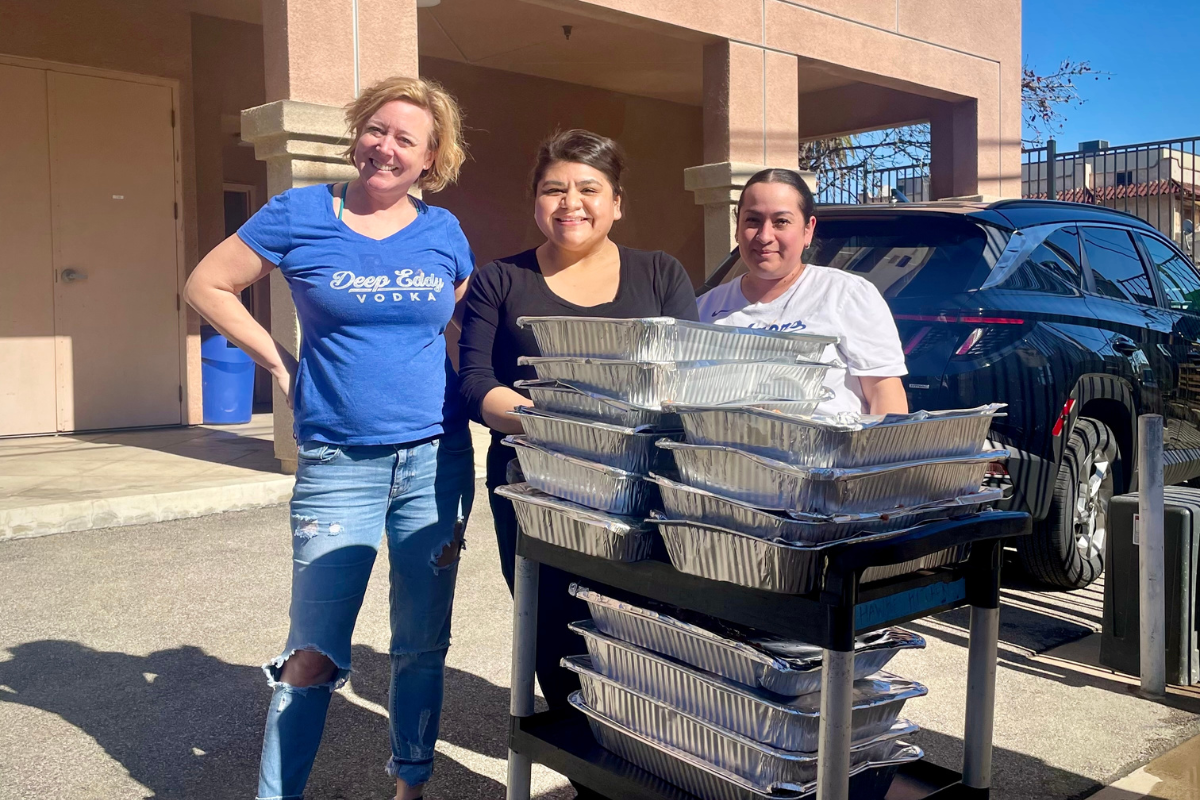 GCMF Provides Support for Musically Fed, Fighting Hunger
Musically Fed, a non-profit organization, mobilizes the music industry in the fight against hunger. They work with artists, promoters, and venues nationwide to donate unused, backstage meals to the homeless, veterans, and food insecure communities. GCMF Executive Director, Myka Miller, picked up over 100 pans of left-over food and deliver to local homeless shelters.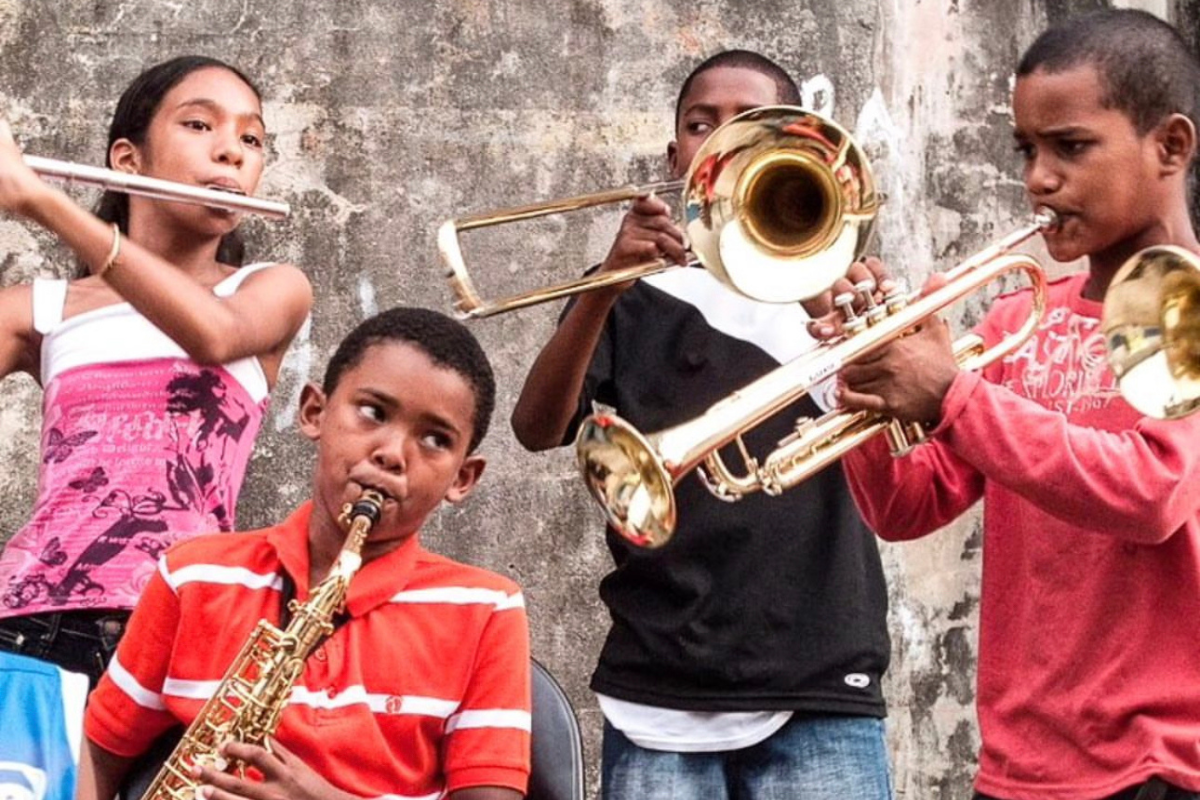 GCMF, Pies Descalzos Foundation, and Playing for Change join forces in Colombia
Shakira's foundation. Pies Descalzos, and Playing for Change are bringing music education to Quibdó, Colombia. The project entitled "Music for Peace and Coexistence" aims to create a musical peace band for the youth to express themselves musically. GCMF donated over 100 insttruments for this endeavor.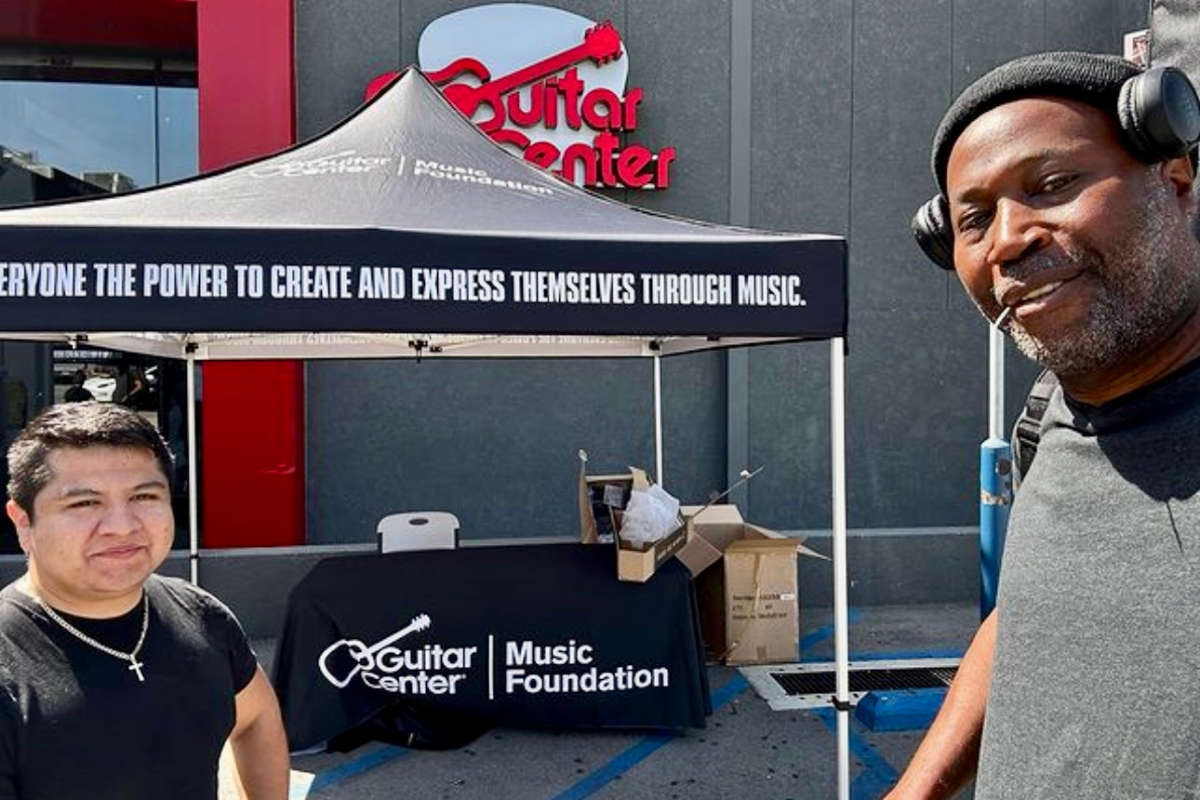 GCMF Partners with Challenge America to Provide over 100 Guitars to Veterans with PTSD
Each month Challenge America provides a Music Therapy Retreat for veterans who use the healing power of music to cope with post-traumatic stress. The veterans are paired with professional songwriters and present an original song at the end of the retreat.
GCMF Donates Drums for ICYOLA's New Drum Corps
Inner City Youth Orchestra of Los Angeles (ICYOLA), the largest majority Black orchestra in the country, has developed a new drum line to add to its programming. GCMF donated quads, snares, tenors, and bass drums. The students learn the fundamentals of drumming, reading music, and performing.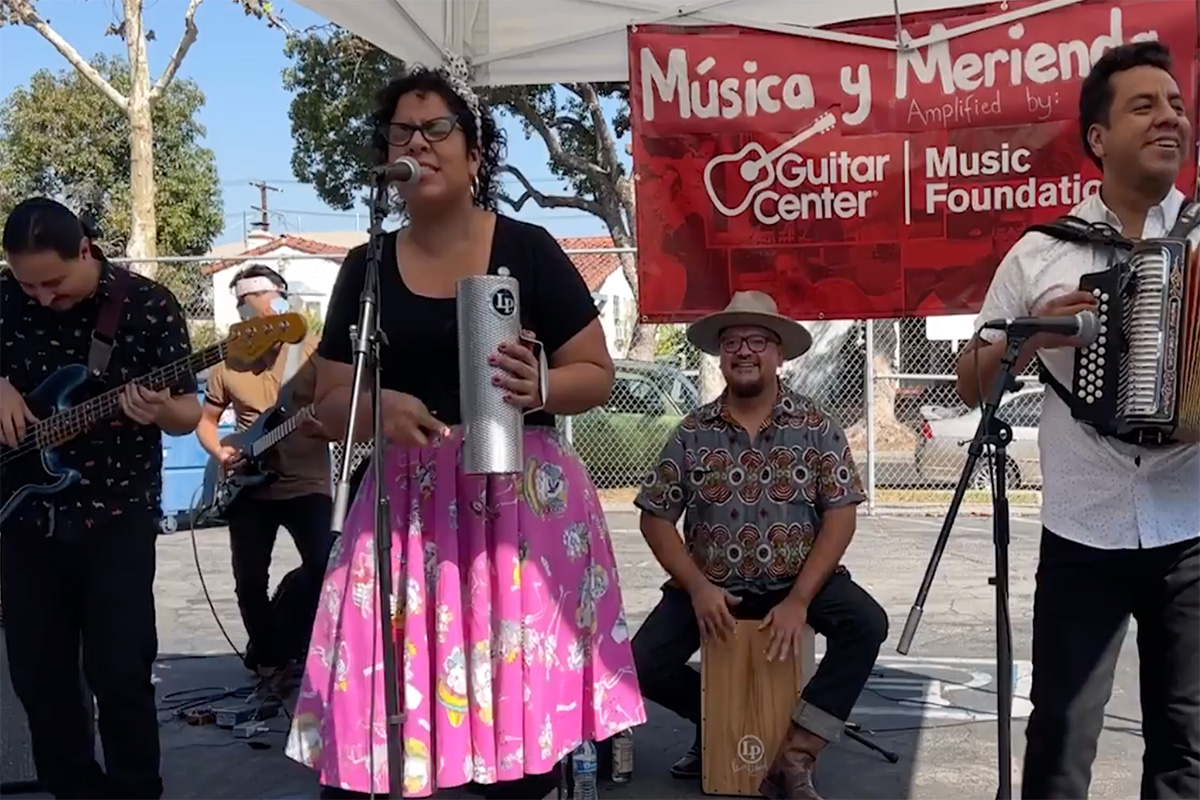 Celebrate Hispanic Heritage Month with "Música y Merienda"
With the help of parent volunteers, Música y Merienda (Music and a Meal) was born at Atwater Elementary in Los Angeles. It is a live-music event that happens during lunch once a month to support the dual-language curriculum while showcasing musicians performing Spanish-language songs across different genres. GCMF provided a much needed new sound system.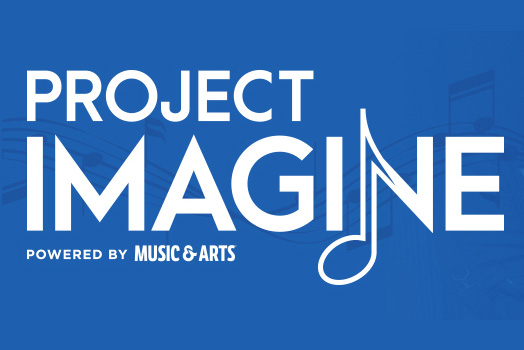 GCMF Partners with Music & Arts on "Project Imagine"
Project Imagine provides free access to high-quality, diverse commissioned works for middle school and high school schools that would not otherwise have access or be able to afford these compositions. Our first composer, Kelijah Dunton, has completed his work, Color in the Grey.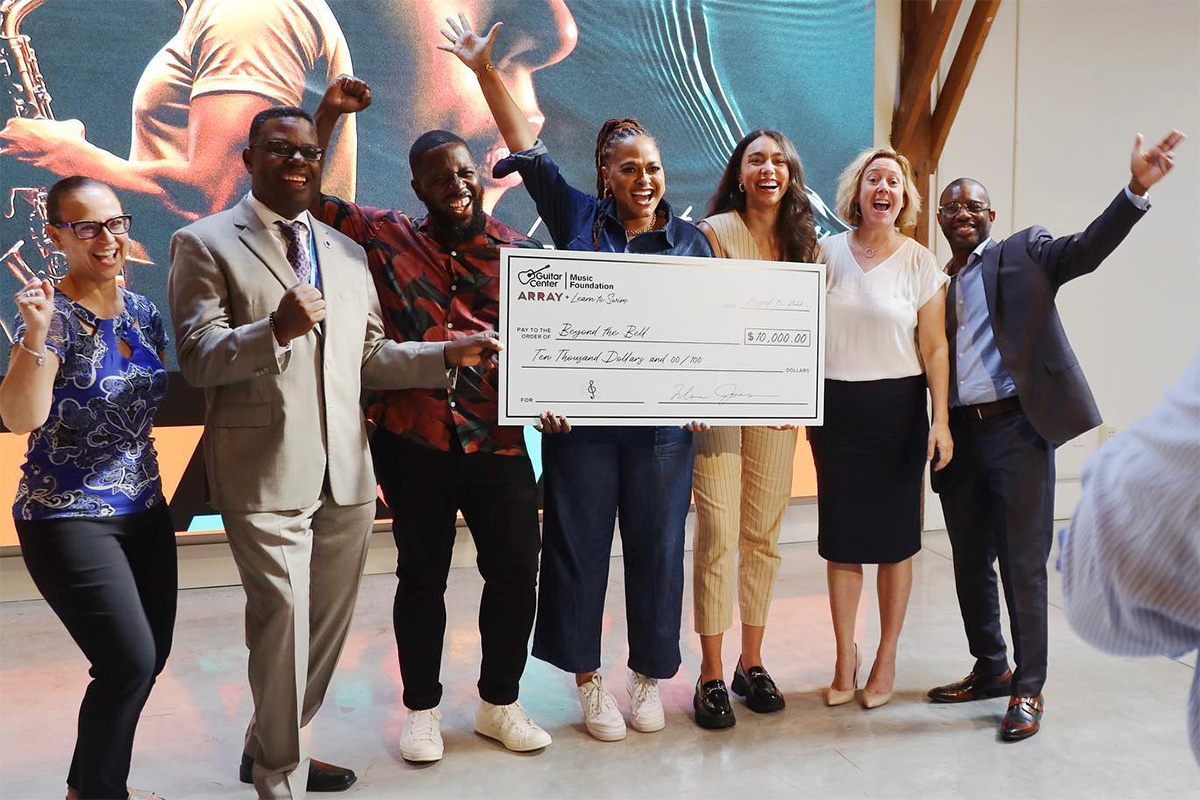 Ava DuVernay's ARRAY and GCMF Donate $10K to LAUSD Beyond the Bell
For the release of "Learn to Swim," a film that dives into the world of contemporary jazz with a musical meditation on love and loss, ARRAY donated funds for music education in the surrounding community. GCMF matched their donation to Beyond the Bell, the afterschool branch of LAUSD.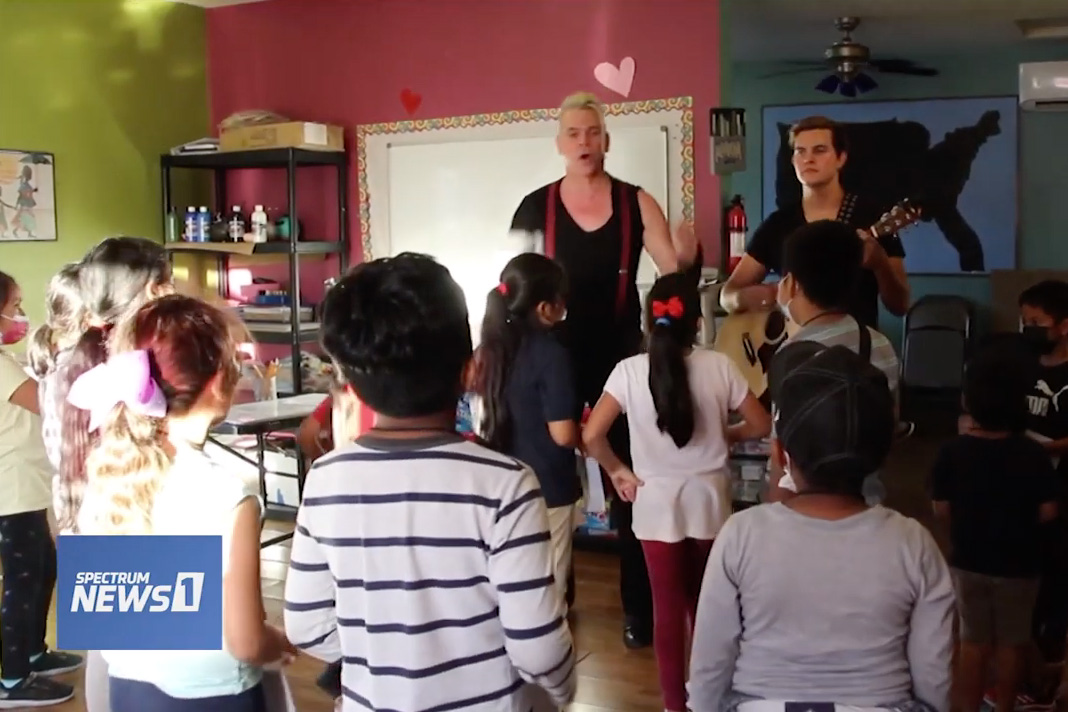 Electric Moon Foundation Brings Music to Alexandria House
We answered the call when EMF reached out about a need for instruments for their summer music camp held at Alexandria House, a transitional home for women and children in Los Angeles. At camp, the children learned to play an instrument and write songs culminating with a performance in front of friends and family.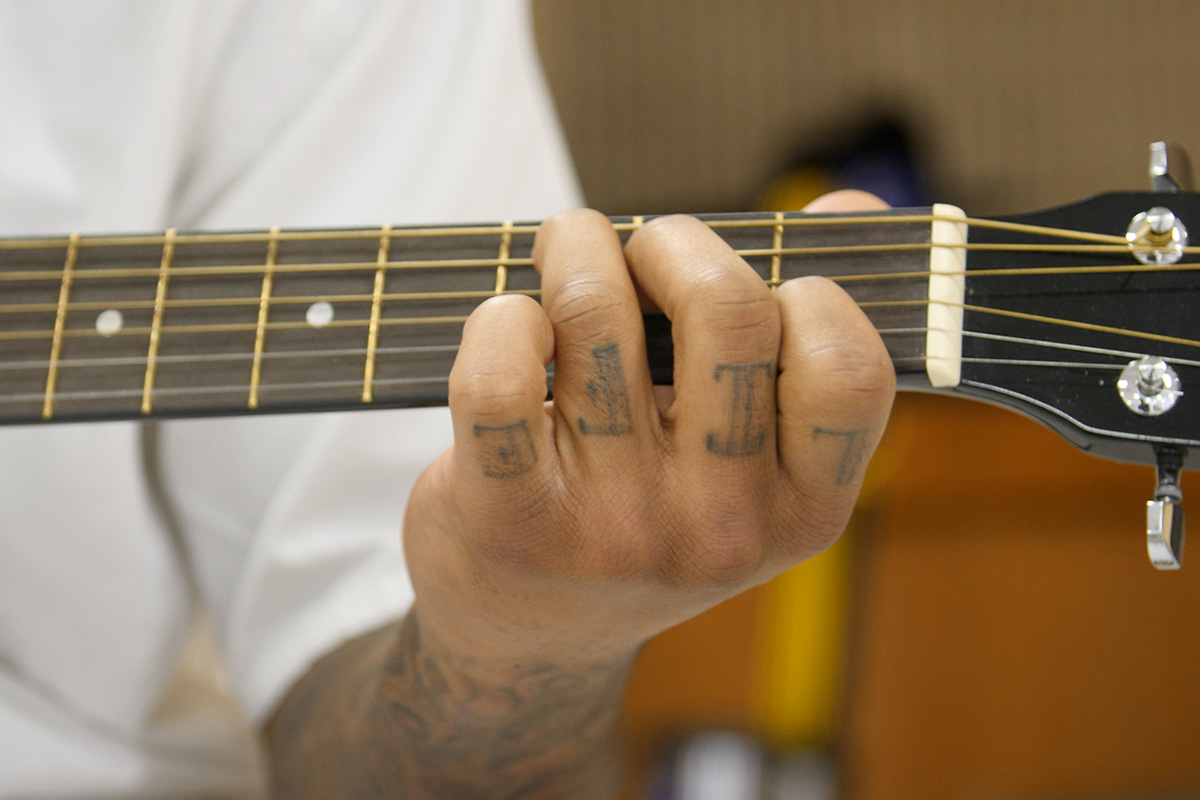 HeartBound Teaches Music in Georgia Prisons
GCMF has donated many guitars and amps to HeartBound over the years, and we are truly making an impact on inmate's lives. HeartBound provides a mentor to teach guitar to many juveniles who are serving adult sentences. While the state can lock you up for years, they can't lock up your creativity. Music makes them more than just an inmate.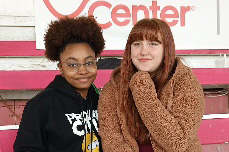 Students Graduate On-Time with Help of Antioch Speedway
When Antioch Speedway volunteer, Larry Adams, learned that kids from Antioch High School in California might not graduate due to not having enough elective credits, he saw an opportunity to create a class for students to broadcast the racetrack's events to earn those missing credits. Larry came to GCMF asking for audio-visual gear to help, and we were thrilled to assist.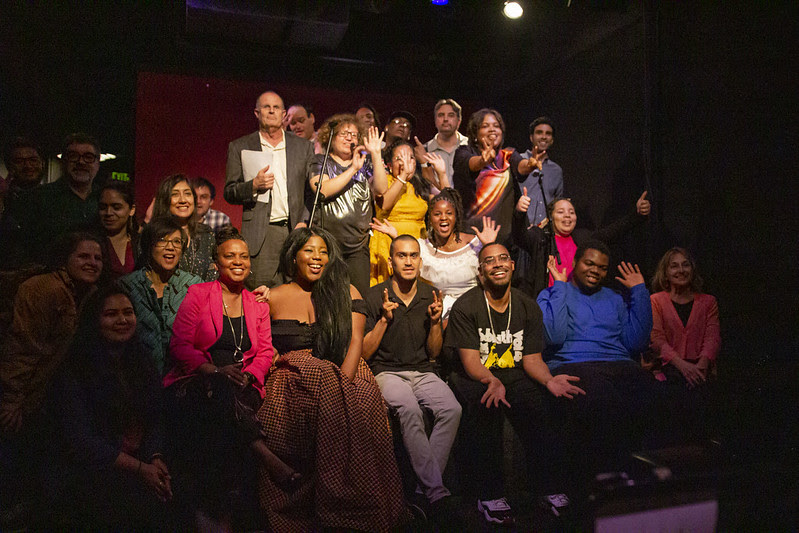 Celebrate Autism Awareness Month with Jazz Hands for Autism
Did you know that the most under-employed demographic in America is adults on the autism spectrum? Many Autistic individuals require a little bit of extra love to find their fit in the workplace, and sometimes even more so in the music world. Jazz Hands for Autism is providing that opportunity for these musicians!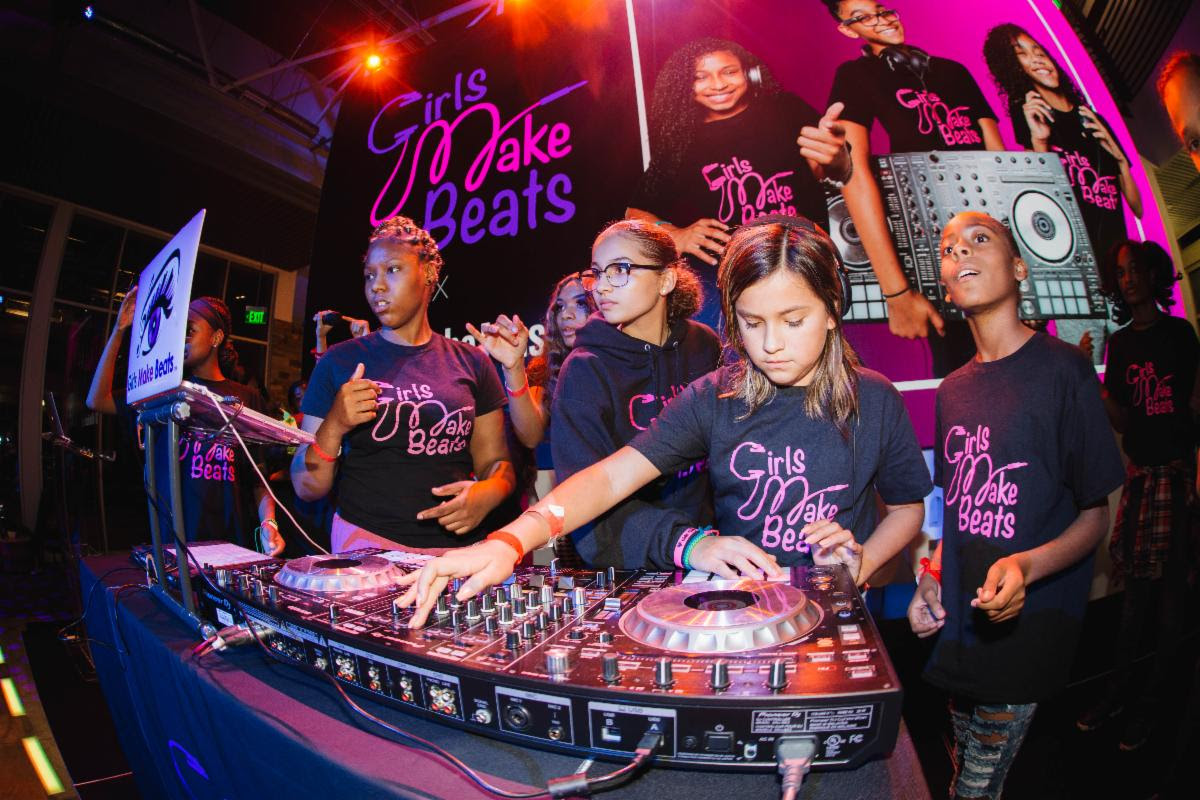 Celebrate Women's History Month with Girls Make Beats
We are happy to support the new Girls Make Beats Jam Lab. 10-year-old DJ Miko was asked during an interview what she'd like to do with all of the skills she was learning at Girls Make Beats. Her response: "I'll DJ parties and also be the first black female president!"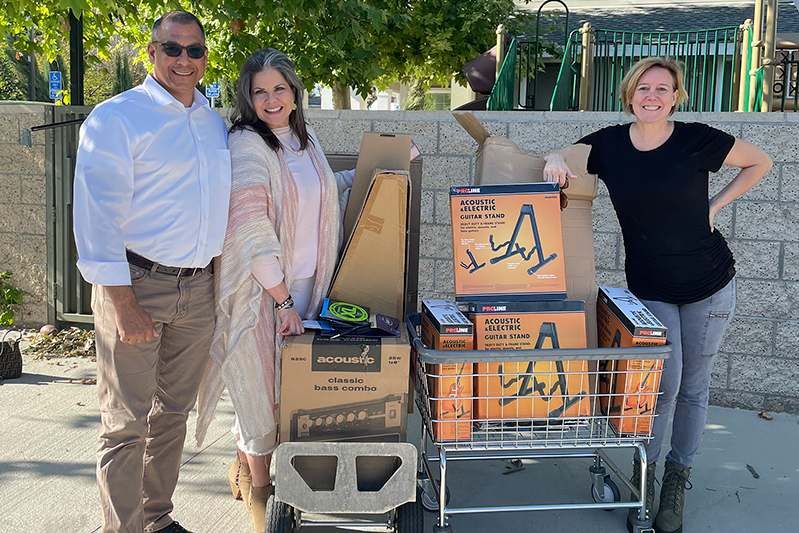 GCMF Donates Instruments to the San Fernando Rescue Mission
We developed a music room at San Fernando Rescue Mission's new men's facility "Renewed Hope." This will enable the residents to play and create music with one another. Special thank you to David Prentice and Felicita Giannavola, Director of Marketing Operations.


Our impact is made possible thanks to the generous support of people like you. Donations remain one of the most effective ways for us to expand our efforts.

We welcome volunteers who are passionate about contributing their time and talent to helping secure and expand access to the music community.

Connecting and cultivating a diverse community of difference makers amplifies our ability to reach schools and in-need music education programs.